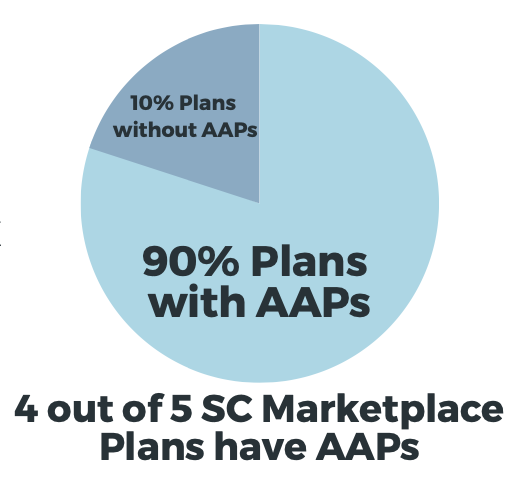 STATUS INFORMATION
General Bill
Sponsor: Representative Henegan
Introduced in the House on January 11, 2023
Currently residing in the House:
Referred to Committee on Labor, Commerce, and Industry
Summary: Pharmacy Benefits
A BILL TO AMEND THE SOUTH CAROLINA CODE OF LAWS BY ADDING SECTIONS 38-71-292 AND 38-71-820 BOTH SO AS TO DEFINE TERMS AND OUTLINE THE APPLICABILITY AND REQUIREMENTS FOR COST SHARING FOR INSURERS; BY ADDING SECTION 38-71-2270 SO AS TO DEFINE TERMS AND OUTLINE THE APPLICABILITY AND REQUIREMENTS FOR COST SHARING FOR PHARMACY BENEFIT MANAGERS; AND BY AMENDING SECTION 38-71-2200, RELATING TO DEFINITIONS, SO AS TO MAKE CONFORMING CHANGES.
1/11/23 House Introduced and read first time (House Journal-page 40)
1/11/23 House Referred to Committee on Labor, Commerce and Industry (House Journal-page 40)

Rep. Patricia Henegan [D]Primary HD-054
Rep. Robert Williams [D]Cosponsor HD-062
Rep. Ivory Thigpen [D]Cosponsor HD-079
Rep. John King [D]Cosponsor HD-049
Rep. Wendell Jones [D]Cosponsor HD-025
Rep. Rosalyn Henderson-Myers [D]Cosponsor HD-031
Rep. Roger Kirby [D]Cosponsor HD-061
Rep. Chandra Dillard [D]Cosponsor HD-023
Rep. Annie McDaniel [D]Cosponsor HD-041
Rep. Stewart Jones [R]Cosponsor-HD-014
Rep. Richard Yow [R]Cosponsor HD-053
Rep. Jermaine Johnson [D]Cosponsor-HD-080
Rep. Beth Bernstein [D]Cosponsor-HD-078
Rep. Heather Bauer [D]Cosponsor-HD-075
Rep. Gilda Cobb-Hunter [D]Cosponsor-HD-066
Rep. Elizabeth Wetmore [D]Cosponsor-HD-115
Rep. William Wheeler [D]Cosponsor-HD-050
Rep. David Weeks [D]Cosponsor-HD-051
Rep. Cody Mitchell [R]Cosponsor-HD-065
To Cosponsor in January
Rep. Tommy Pope [R]Cosponsor-HD-047
Rep. Neal Collins [R]Cosponsor-HD-005
Rep. Russell L. Ott (R) Cosponsor-HD-93
Rep. Anne Thayer (R) Cosponsor-HD-9
The Problem
In the commercial health insurance market, some patients are being forced to pay more out-of-pocket for their medicines due to an increase in deductibles and the use of coinsurance instead of copays. Deductibles require patients to pay in full for their medicines before insurance coverage kicks in. And unlike copays, which are a fixed dollar amount charged per prescription, coinsurance requires patients to pay a percentage of the medicine's price.
The Solution – Make All Copays Count
To help patients better access their medicine and stay adherent, many third-party entities, including pharmaceutical manufacturers, offer cost-sharing assistance. Historically, commercial health insurance plans counted this assistance towards a patient's deductible and maximum out-of-pocket, providing relief from high-cost sharing and making it easier for patients to get their medicines.
South Carolina should enact a law to protect patients who rely on third-party cost-sharing assistance by ensuring that all payments – made by the patient or on behalf of the patient – count towards the patient's deductible and out-of-pocket maximum. Sixteen states, including neighboring Georgia, North Carolina, and Virginia, have already enacted legislation to address this issue.
Unfortunately, health insurers and PBMs have adopted Polices, often referred to as "accumulator adjustment programs" that block assistance towards a patient's deductible and maximum out-of- pocket limits CoPay Assistance.
The following groups have committed to advocate on behalf of SC H.3618
Aimed Alliance
aHUS Action Network
ALS Association
American Diabetes Association
American Cancer Society Cancer Action Network
Association for Clinical Oncology (ASCO)
Arthritis Foundation
Bleeding Disorders Association of South Carolina
Coalition of State Rheumatology Organizations
Community Oncology Alliance (COA)
Everylife Foundation of Rare Diseases
Gaucher Community Alliance
Hemophilia Federation of America
International Foundation for AiArthritis
Lupus and Allied Diseases Association, INC
Multiple Sclerosis Association of America
National Alliance on Mental Illness, SC
National Eczema Association
National Hemophilia Foundation
National Psoriasis Foundation
SC Oncology Society (SCOC)
South Carolina Advocates for Epilepsy
Spondylitis Association of America
wAIHA Warriors
Members of the Bleeding Disorders Association of South Carolina gathered for training on Rare Disease Day in preparation for their Annual State Awareness and Legislative Day held on March 1st at the State Capitol in Columbia. The 2023 priorities were advocating for passing H.3618 and continued funding for the state Hemophilia Assistance Program.
Members of the Bleeding Disorders Association of South Carolina gathered to celebrate the chapter's 50th Anniversary.  During this celebration, the chapter awarded Representative Stewart Jones with their Legislative Advocate of the Year award.  Representative Jones received this award for his support of House Bill 3618.  With his support, H.3618 became a bipartisan bill.